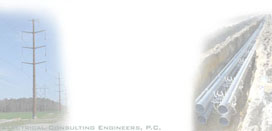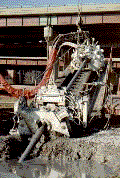 Electrical Consulting Engineers, P.C.
---
---
---
---
---
Electrical Consulting Engineers, P.C. - Copyright 2020
Electrical Consulting Engineers offers a variety of services focused on insulated power cables and related systems. We would be pleased to work with you on technical areas including those summarized below.
Feasibility Assessment
---
ECE will perform a basic system design sufficient to evaluate the feasibility of a project and, if necessary, develop budgetary costs for new underground or submarine cable projects.
Design Criteria Analysis
---
Prior to preparing specifications, ECE will evaluate the many design considerations and perform calculations to develop a detailed design. The resulting report will describe for the customer the background engineering decisions that go into the specifications.
Specifications
---
In conjunction with developing design criteria, ECE will prepare cable material and installation specifications in support of new projects. Often, this can be used in conjunction with the owner's terms and conditions to procure a cable system. We can work with architect-engineering firms or directly for utilities. During procurement, construction and installation, ECE can serve as the "owner's engineer" to provide quality assurance, check submittals, etc.
Horizontal Directional Drilling (HDD)
---
Increasingly, underground power cables are being installed by trenchless methods (HDD, pipe jacking, etc.) at least for portions of a circuit. ECE will assist with evaluating the application of these methods, often as part of a cable system feasibility study.
As-Built Ampacity / Uprating Studies
---
Either as the culmination of a new circuit's construction or an evaluation of older circuits for which the rating basis is not well understood, ECE can review cable parameters, installation conditions, plan & profile drawings, etc. to develop the as-built power transfer limits of an underground cable system. On existing circuits this is often in conjunction with increasing capacity.
Cable System Assessment / Life Evaluation
---
ECE engineers can evaluate the condition of a cable system, considering issues such as corrosion, operation and maintenance practices, historical and projected loading, etc. Through a program of detailed study, we can prepare a detailed report or "O&M" manual to help insure continued successful operation.
As-Built Ampacity / Uprating Studies
---
Often, new transmission circuits may contain elements of both overhead lines and underground cables. ECE engineers can assist with evaluating the underground portions of the line from feasibility studies through detailed design and specification preparation.
Quality Assurance / Factory Acceptance Testing
---
ECE engineers, often in conjunction with preparing the specifications for an owner, can be the owner's representative during factory acceptance tests on cables and accessories and during commissioning tests.